Romans 16:17-19 (NLT)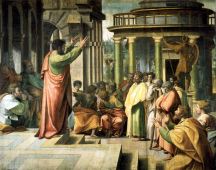 17 And now I make one more appeal, my dear brothers and sisters. Watch out for people who cause divisions and upset people's faith by teaching things contrary to what you have been taught. Stay away from them.

18 Such people are not serving Christ our Lord; they are serving their own personal interests. By smooth talk and glowing words they deceive innocent people.

19 But everyone knows that you are obedient to the Lord. This makes me very happy. I want you to be wise in doing right and to stay innocent of any wrong.